JetBrains CLion Webinar: Video, Code and Slides
Testing code in CLion
Today I gave my webinar demo of adding tests un-tested code in CLion, with Catch2 and Approval Tests.
As ever, although I find that writing talks and demos takes me longer than I expect, I learn plenty doing the preparation, so the time pays off.
I had a mix of demo and slides: there's always so much that I want to say in talks, and never enough time, but I really enjoyed the experience, and am grateful for the invitation.
Video and Slides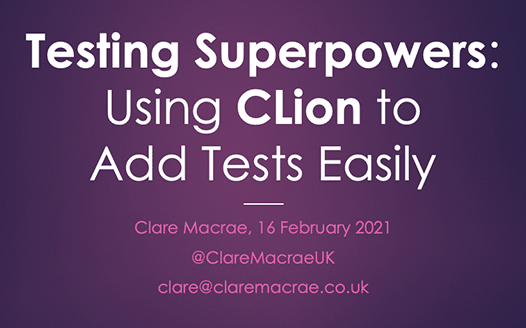 Overview
I covered these broad topics:
Testing with Catch2
Testing with Approval Tests
Using Code Coverage tools to improve the tests
Improving the tests, with Combination Approvals
CLion testing tips
The Code
The code is in my fork of Arne Mertz's commandline-videostore-cpp.
I've added a bunch of useful links and credits to its README.
The branches for today's talk are: